The search for a home reflective of elegance and creativity ends at Villa Ingenieux, an exquisite 10,000 square foot home located on five wooded acres in picturesque southern Willamette Valley.
The home, located outside of Eugene, Oregon, is part of an estate that also features a 3,000 square foot guest house. The property is currently available for showings through Key Realty Inc. with offices in Eugene. The property is perfectly positioned within a short, equidistant 15-minute drive of Eugene, and the amenities of a city with a large, research university and burgeoning business sector, and a regional airport with accessibility to major hubs across the western United States.
Its location, coupled with its unique concept, make this house the ideal property for those with an appreciation for masterful design and old-world architecture with modern touches. Villa Ingenieux is a four-story, 30-room mansion that features seven bathrooms and nine bathrooms with luxurious finishes and state-of-the-art technology. Bedrooms and other living areas are perfectly positioned to offer breathtaking views of the Oregon landscape. About 3,000 square feet of deck space, including private terraces off of bedrooms, enables the enjoyment of the beauty of the nature that surrounds the home.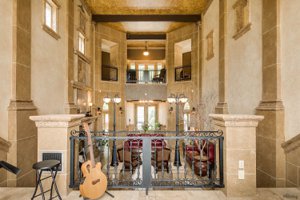 The home features entertainment spaces, such as a Grand Hall with 24-foot ceilings, and an outdoor stage. Outdoor and indoor areas are wired with a 5.1 sound system and its own digital phone system and computer network. The house is equipped to facilitate celebrations. There are a separate catering kitchen and dumbwaiter system, as well as a 300-square foot home theatre with stadium seating for about 12 people.
The mezzanine area of the Grand Hall also features conversational nooks designed specifically to foster creative connections. A courtyard is the central element of the property and anchors the villa with its rooms designed to overlook the outdoor areas fountain and lush raspberry and blueberry vineyards.
The guest house is also a marvel with three stories that could be used as a living space, as well as a home office. The top floor features a 1,000 square foot living area with a bedroom and bathroom with a private deck where in the winter, glimpses of nearby Fern Ridge Reservoir can be seen in the distance.
Lush landscaping, ponds and the grandeur of Villa Ingeniuex create an atmosphere of luxury incomparable to other properties in Oregon.